formulated with 100% organic non-GMO sugarcane molasses
formulated with non-GMO sweet Sorghum
The gastrointestinal system or gut is vital for overall functional health. It is the first line of defense as 80% of the immune system resides in our gut. Unfortunately, gut issues not only affect that organ, but your entire body.
Probiotics are beneficial, live microorganisms that can confer health benefits onto the host.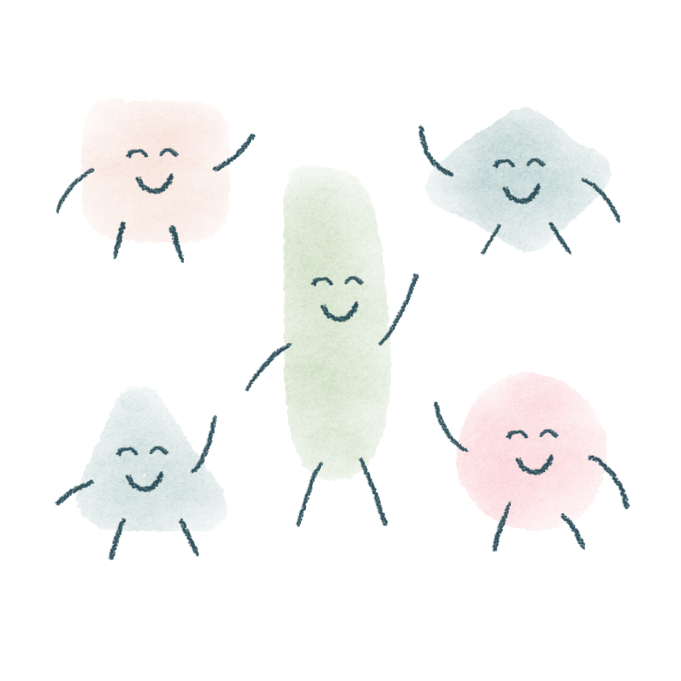 What's inside makes us unique
Our all-natural living probiotics are fermented in consortia to allow for a diverse symbiosis, reliability and effectiveness.
Less bloating and stomach discomfort, better bowel movements, increased energy! Such a unique probiotic! Thank you, Flourish! - Corey F.

Best probiotic out there! It has changed my life and my families. - Shannon M.

Flourish as helped my family in so many ways! Cleared my kids of their eczema, and gave them regularity! We have felt so much healthier by adding Flourish to our daily routine! Such a great health product added to our lives! - Justine D.

After years of struggling with stomach pain, eczema and allergies in our home we now have found relief from these things and are living happier and healthier because of flourish! - Pam T.

So thankful for Flourish and the passion of the creators to create such a superior product. There is absolutely no other probiotic on the market that compares to Flourish. - Rose H.

I've been using Flourish for almost 4 weeks now and I think the biggest thing I've noticed is that I feel like I have more energy! - Andrea S.

After having IBS (irritable bowel syndrome) for years, I am constantly amazed at the normal bowel movements I have since beginning Flourish in December. The bloated feelings I had are now gone. - Bev D.

I feel so much better taking flourish! thanks for such an amazing product! I've got my stepdad on it now too! - Christina G.

Transformative product!!! A very conscientious business changing lives! Flourish along with an anti-inflammatory diet has 100% turned fibromyalgia and post partum issues around. I'm ever grateful for this living bacteria. - Sheila N.

I love this company and flourish has given me so much energy and focus, no bloating or cramping each month, and happy to say 'sick season' is no match for our immune systems now! - Lynn H.

Awesome product- highly recommend for people of all ages!! <3 - Alison V.

Flourish worked great on knee inflammation & bowels - Donna S.

Entegro's products, flourish and flourish jr, have been game changers for my family from eczema to allergies and so much more. Healing from the root of the problem, no bandaids🙂 So blessed to have found this company! - Pamela T.

Liquid probiotic is ⭐️⭐️⭐️⭐️⭐️ - Victoria F.

Tastes great and definitely helped regulate both me and my husband. I also felt like my skin got cleaner with using it! - Chelsea K.

I absolutely love these probiotics. I use them every day and can definitely tell a difference - Kelsey D.

I take the recommended dose everyday of the Flourish. - Kendra J.

My son has always had bad eczema. I tried everything possible, but nothing helped. After about a month of using flourish it went away! - Amy P.

Entegro's Flourish probiotic has been life changing for our whole family! Definitely recommend!!! - Courtney R.

i decided to try out flourish! and it has yet to disappoint me! i have seen changing in my body since taking it! totally worth it ! - Esther W.

Flourish living liquid probiotic is seriously amazing! After only a couple of months, my acid reflux problems that I've had for years are almost non-existent, and psoriasis patches that just never would go away are finally fading!!! I can't recommend entegro's flourish enough! 🙌🙌🙌 - Elizabeth E.

Flourish has been a game changer in our family's health. It provides more than just a probiotic. Its a prebiotic, mineral supplement and fermented food supplement in one. I love this product so much I cannot stop talking about it! - Jen O.

flourish is the first probiotic I've felt a long term difference with. It's helped my digestive issues, stomach pains, immune system and even some skin problems. So thankful! - Amanda F.

#freshneverfrozen fans for life. Flourish, along with a healthy diet, has made a huge difference in our family's gut and immune health. - Kaitlyn S.

I'm so excited about this product! I have been giving to my three children and have already noticed a huge difference in regularity of their bowels. Amazing product - 5 stars! - Monica G.

When I don't take it, I feel it. Never had a probiotic as effective as this. - Xiao F.

The Best Probiotic I've Ever Taken! I am more energetic and focus when I consistently have Flourish as a part of my daily health regimen! - Ila O.

Entegro is living in liquid probiotic, Flourish,is the best probiotic in the world! - Donna C.